Questa pagina è interamente dedicata agli F-35 Lightning II italiani che, in base ai programmi di acquisizione pluriennali, usciranno di fabbrica dallo stabilimento militare di Cameri (NO) dove si trova l'unica linea di produzione europea del caccia americano; dalla pista militare vengono eseguiti i voli di collaudo prima di essere consegnati all'Aeronautica e Marina Militare.
La Galleria verrà costantemente aggiornata con le immagini dei nuovi aerei "catturati" in volo e con le migliori fotografie di quelli già servizio.
Oltre alle fotografie prodotte dai Soci PSC, sono benvenuti tutti coloro che vogliono contribuire con le proprie immagini e condividerle qui con noi e con tutti gli appassionati di ogni cosa che voli.
La F.A.C.O. (Final Assembly and Check Out), si trova all'interno dell'aerobase novarese in un'area di 500'000 metri quadrati ed è gestita da Leonardo/Finmeccanica; qui vengono assemblati tutti gli aerei ordinati dall'Italia e vengono altresì prodotte le ali per tutta la produzione mondiale del Joint Strike Fighter.
Lo stabilimento è in grado di produrre aerei per le altre nazioni partner del programma ed eseguire la manutenzione di lungo periodo alle macchine presenti in Europa.
Lo stabilimento, di proprietà del Governo italiano e co-gestito da Lockheed-Martin e Leonardo, ha commesse per 60 F-35A e 30 F-35B per l'Italia oltre a 29 F-35A destinati all'Olanda.
Dopo Fort Worth (foto sotto, credit Lockheed Martin), solamente Italia e Giappone dispongono di una linea di assemblaggio e produzione di componenti per l'intero programma J.S.F..
La base di Cameri è attualmente sede del 1° R.M.V. (Reparto Manutenzione Velivoli) dell'Aeronautica Militare ed ha in carico la manutenzione di Tornado ed Eurofighter Typhoon.
Sino al 28 luglio 1999, anno in cui venne sciolto, fu sede del 53° Stormo Caccia.
Senza la collaborazione degli Amici della Rete di Cameri, un gruppo variegato e fantastico di appassionati del volo di ogni età, non sarebbe stato possibile documentare tutti gli esemplari dell'aereo di Lockheed Martin.
Il loro prezioso contributo in foto è stato e sarà fondamentale per arricchire la galleria man mano che gli aerei usciranno dalla linea di produzione; troverete il credit all'autore sotto ad ogni immagine gentilmente messa a disposizione.
Ciascun aereo prodotto, oltre a riportare l'immatricolazione USAF e poi quella nazionale, viene designato con una sigla costruttiva che identifica il modello (A convenzionale, B a decollo corto ed atterraggio verticale, C la versione "ingrandita" destinata all'US Navy), la nazione alla quale l'aereo è destinato (L per l'Italia), ed un numero progressivo.
Le coccarde tricolori e le insegne di reparto sono a bassa osservabilità ed in stile "USAF".
Il roll-out del primo F-35 italiano, designato pertanto AL-1 e matricola MM7332 con le insegne del 32° Stormo, è avvenuto il 12 marzo 2015.
Il primo volo, in quello che è stato in assoluto il primo al di fuori degli Stati Uniti, ha avuto luogo l'8 settembre 2015 con ai comandi il test pilot di Lockheed Martin Bill "Gigs" Gigliotti; il costruttore statunitense ha definito quel giorno come "una tappa fondamentale per l'Italia e per la partnership produttiva tra Finmeccanica-Alenia Aermacchi e Lockheed Martin".
Il 32-01 è stato inoltre il primo aereo del programma Joint Strike Fighter ad effettuare la trasvolata atlantica conclusasi il 5 febbraio 2016 sulla Luke AFB in Texas, sede del centro di addestramento internazionale F-35.
La FACO di Cameri ha prodotto e consegnato il primo F-35B (BL-1) assemblato al di fuori degli Stati Uniti e preso in carico dalla Marina Militare.
L'F-35B è la versione STOVL (Short Take-Off and Vertical Landing) del Joint Strike Fighter,
Su Spotters Magazine Nr. 19, il PSC ha inoltre pubblicato un articolo corredato di foto dal titolo "Il mio F-35": www.flickr.com/gp/137581316@N06/x8181g
L'intera edizione è scaricabile qui: www.spottersmag.com/wordpress/wp-co...sMagazine19.pdf
(© PSC ed Autori, riproduzione vietata se non espressamente autorizzata)
Ordini: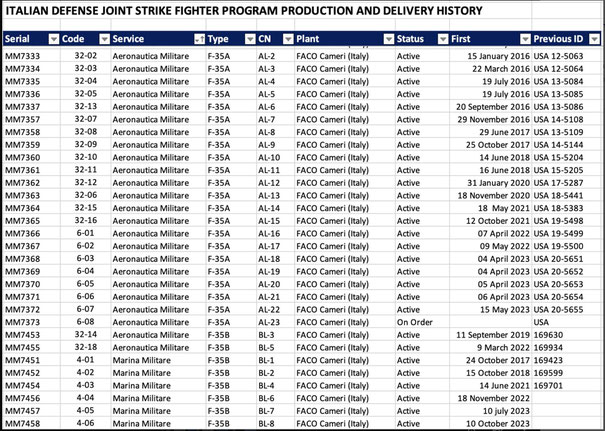 12.12.2016 Oggi in un nebbioso 12 dicembre, 2 F-35A hanno lasciato la F.A.C.O. di Cameri per raggiungere la loro casa, il 32° Stormo di Amendola.
32-05 e 32-13 sono i primi due F-35 a disposizione dei reparti di volo operativi dell'Aeronautica Militare.
06.05.2017 5 Maggio 2017: Roll-Out di BL-1, il primo F-35B Italiano ovvero la versione a decollo corto ed atterraggio verticale del Joint Strike Fighter.
29.06.2017 29 giugno 2017: primo volo per AL-8, l'ottavo F-35A.
24.10.2017 24 ottobre 2017: primo volo per BL-1, il primo F-35B STOVL, decollo corto ed atterraggio verticale.
25.10.2017 25 ottobre 2017: primo volo di AL-9, il nono F-35A convenzionale per l'Aeronautica Militare.
15.12.2017 15 dicembre 2017: consegnato AL-9, il nono F-35A convenzionale destinato al 32° Stormo di Amendola.
14.06.2018 14 giugno 2018: maiden flight di AL-10, il decimo F-35A convenzionale ordinato dall'Aeronautica Militare.
05.09.2018 5 settembre 2018: AL-10 consegnato all'Aeronautica Militare. L'aereo lascia Cameri "scortato" da AL-6 (32-13).
Sono 10 i JSF in carico all'Aeronaurica Militare.

7 settembre 2018: IL 9° F-35A (32-09) arriva a Kleine-Brogel per lo Spotters Day dei "Belgian Air Force Days" guest star della mostra statica della manifestazione belga. Si tratta della prima "vera" partecipazione di un F-35A italiano ad una manifestazione pubblica.
15.10.2018 15 ottobre 2018: maiden flight per il secondo F-35B, numero di produzione BL-2 e immatricolato MM7452, ancora privo delle insegne di reparto e della Forza Armata di destinazione.

16 ottobre 2018: vola l'undicesimo F-35A destinato all'Aeronautica Militare (AL-11), matricola MM7361 e tail 32-11.
All pictures by Gianluca Conversi except when noted
All pictures by Gianluca Conversi except when noted